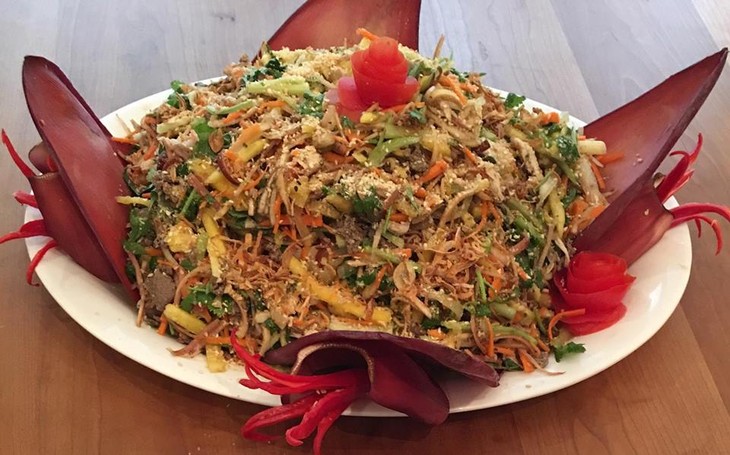 (Photo: Taken by Diep To)
Chi: Welcome to another segment of VOV24/7's Food Delight. As usual, we'll bring you lots of cooking tips and recipes. On today's show, we have a very special guest, Diep To. This woman is a world traveler who has been to 40 countries. She is also a guest cook who has passionately promoted Vietnamese cuisine to the world.
Diep To: My name is Diep To. I was born in Hanoi. I love travelling. I love cooking for people I love and I love to share Vietnamese culture to the world and I love to explore other cultures and food of all different countries.
Chi: What kind of food do you like to cook?
Diep To: I cook all different kinds of food but my favorite food is Vietnamese food. I learn from my mum, my aunt and I taught myself the food I love that is fresh and good for our body.
Chi: I know you have traveled to many countries to promote Vietnamese cuisine. What do you say to foreign friends about Vietnamese cuisine?
Diep To: I'm fortunate enough to travel to about 40 countries in the world. Each time I visit a country if I don't see the market I don't consider myself to travel to that country. Often I talk to the people who cook on the street, who are chef in the restaurant and I present myself as a food lover, and I want to learn, and they would open their kitchen and show me, and I ask them "Do you know anything about Vietnamese cuisine?", and many of them say "We don't know much and maybe you can tell us".
And I said to them that the secret of Vietnamese cuisine is freshness of the ingredients. The prominent thing on the table is vegetable, we eat a lot of raw herbs. And I think that makes Vietnamese cuisine stand out because that fresh herb gives you full of flavor, it's tasty, it gives you mineral and vitamin in full form.
Chi: Diep To now lives in Canada but she still shuttles between Canada and Vietnam to conduct cooking classes. You said the secret of Vietnamese cuisine is the freshness of the ingredients. Can you tell us a typical Vietnamese dish that you teach in cooking classes for foreigners?
Diep To: In Canada, people are fascinated with banana flower salad because they have never seen banana flower. I keep some petals to make decorations for them to see that this kind of salad they are having. They feel so exotic. As green papaya is popular with Thai cuisine, sometimes I mix different kinds of vegetable together to make a salad, let's say I would make pineapple with green mango, and banana flower as well. Sometimes I just make banana salad itself, depending on the freshness that I could find in the market.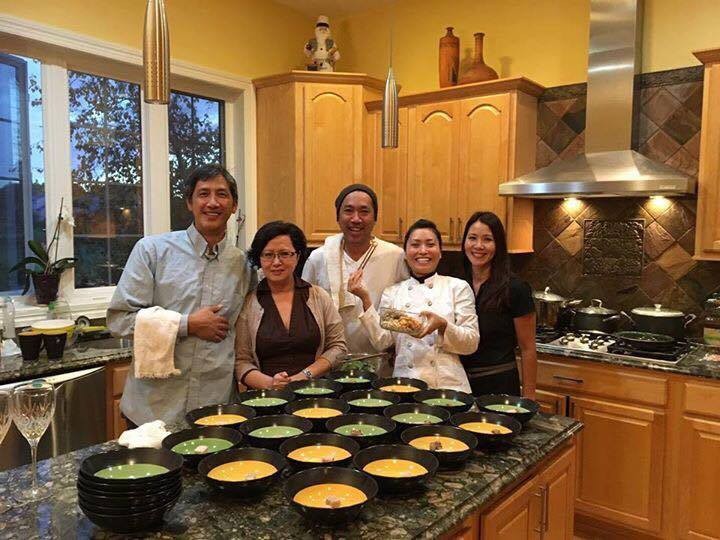 Diep To (second from right) opens cooking classes to promote Vietnamese cuisine in many countries.
Chi: Banana flower salad is very popular in Vietnam. Can you tell us how to this salad?
Diep To: There are different ways to make banana flower salad. One of the most authentic way that people from Hanoi and some other Northern provinces do is only flower from banana and then they would soak in salt and hot water, so take all the bitterness of the flower out, then they will mix with a lot of lime juice, sugar, fish sauce, and roasted sesame, and you have to pound it into pounder, so all the slices of the banana flowers in sesame. Then you give a touch with fresh chili, I mean hot chili pepper, add roasted peanut.
If you want to have meat salad, you add shredded chicken, shrimp or shredded boiled pork, lean pork, sometimes I use pork belly to have some fat, it gives the flavor.
Chi: Oh, that's a rich salad. I like that one because you can enjoy some meat but it's less fattening because it's served with vegetables.
Diep To: Another day, I want to make banana flower salad in different way, I would add some more lotus stem to give the crunchiness. If the banana flower is not as fresh as I wish, I would add more cucumber but just the peel, and some pineapple to give the sweetness for the salad.
So it depends on the weather and who I am cooking for. I will change the recipe a little bit.
Chi: You have suggested several ways to make banana flower salad. Do you have to adjust anything when you cook for foreigners to cater to their taste?
Diep To: For foreigners, I don't soak them in hot water, I will mix with pineapples and chicken, everybody can eat chicken, shrimp. I will boil my shrimp with a little of sea salt, I would add the root of coriander, lemon grass and ginger to flavor the shrimp. Most of the time in Vietnam people just boil like that but I want to flavor my shrimp, pork and chicken with the root of fine herbs to make it more tasty.
Chi: Do you have banana flowers in Canada?
Diep To: Yes, I live in Toronto, in China Town or Vietnamese market, you can find Vietnamese mint, banana flower, lotus, you find everything.
Chi: Banana flowers are not very colorful. How do you decorate the dish to make it more attractive?
Diep To: I would add some red chili pepper, I cut chili pepper as a little flower, I use the inside petal of the banana flower, sometimes you are lucky to find a fresh one and it still has colors.
Chi: Thank you Diep To, for your very interesting advice and recipe. We hope to have you back some time on VOV24/7's Food Delight.
To our audience, good bye until next time.
Nguồn: vovworld.vn