Chi: You're listening to VOV24/7's Food Delight, I'm Kim Chi the host of today's show.
Here's some good news for you gourmets: Les Aromes Festival 2017 is taking place at the Sofitel Legend Metropole Hanoi. Why don't you take this chance to thrill your palates with amazing dishes created by some of the world's top chefs.
Today we're in the kitchen with Peruvian chef Daniel Chavez.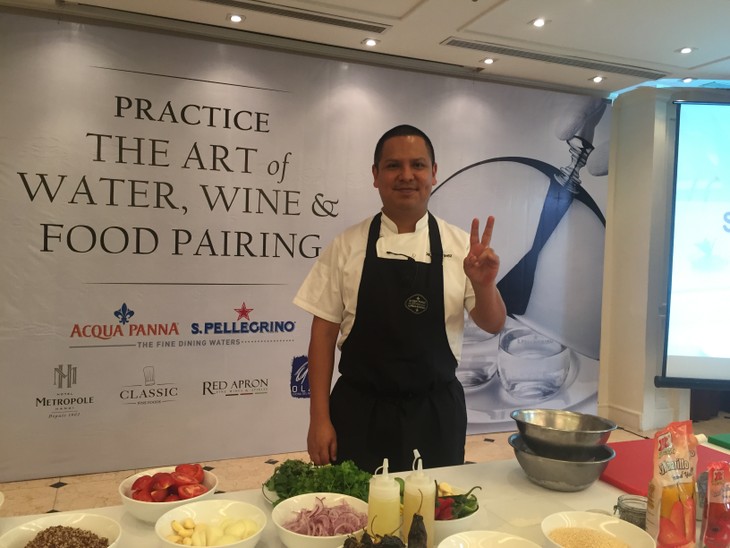 Peruvian chef Daniel Chavez
Daniel: My name's Daniel, I'm Peruvian.
Chi: Hi, Daniel, have you brought any ingredients typical of Peru to this food festival?
Daniel: We brought some corns, chilli, and we also use some ingredients from Hanoi to see how they mix together.
Chi: Today Daniel will make "Potato causa", a typical Peruvian potato dish.
Peru is said to have over 4000 types of potatoes. Peru's variety of micro climates and soils allows many kinds of tubers to grow. Please tell us more about Potato causa.
Daniel: It is nothing but potatoes. And causa would not be a causa without the topping, which is anything you like with mayonnaise.
Chi: I see a lot of choices here. I don't know which ingredients go best with Potato causa. The main ingredient, of course, is potato. What other spices do we need?
Daniel: To make causa, basically the ingredients you need are: potatoes, lime, chilli, and a little of olive oil. On top of the mixture, you're gonna put anything that you like: seafood, chicken, vegetables, quinoa with a little bit of mayonnaise.
Chi: So, what do we do with the potatoes?
Daniel: What I'm gonna do is the way my grandmother did.
You mash the potatoes, if you do it in a restaurant, you can do it with a ricer, but you need to do it when it's hot.
Chi: Is it easier to mash potatoes when they they're hot?
Daniel: It's important you adjust the seasoning when it's cold because it's served cold. The things are different between hot and cold. If you eat it too hot, it's too acid, but when it's cold, it's ok.
Chi: After the potatoes are mashed, what spices do you add?
Daniel: One more time, in Peru, we have chili everywhere, and this is yellow chilli. We're gonna add a little bit chilli, salt, a little bit lime juice, and olive oil. The mash potatoes are put on a bowl of ice to chill it.
Chi: Oh, I think the process isn't too hard even for me, I can do it. But the decisive ingredients for Potato causa must be in the topping. What kind of topping do we have today?
Daniel: It's quite flavor because on the top of the causa, you need to put some mayonnaise. Without it, it's not causa. Today, we put crab meat, chicken, avocado, and quinoa, just to add some degree of flavor.
For the mixture, we put the crab meat, Japanese mayonnaise, we put capers, chopped onion, and corianders. Then we mix it.
The causa on top we put some quinoa.
Chi: Quinoa is very popular now, especially with people who want who want to pursue a healthy diet.
Daniel: Quinoa is nutritious, healthy, nowadays we want healthy food. In Peru we have many grains like quinoa. The astronauts have eaten quinoa since the 1980s because you don't need to eat much to get a lot of energy.
Chi: Very interesting. Potato causa looks really simple - just two layers, mashed potatoes and a mayonnaise topping. Let's taste it.
Oh, the mashed potato melts in my mouth with the cool flavor of mayonnaise topping. I can feel the light crunch and pleasantly nutty flavor of quinoa on the top.
It's amazing. Thanks, Daniel, for your delicious dish. You guys, join us again next week to explore food from around the world. For now, good bye.
Nguồn: vovworld.vn