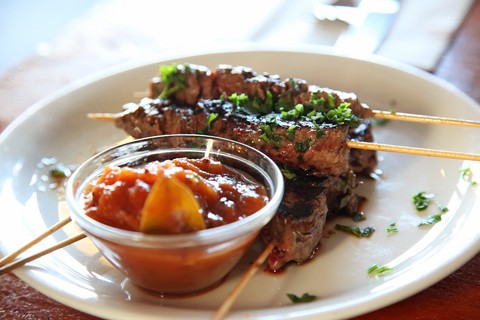 (Photo: pinterest)
A: Welcome to VOV24/7's Food Delight. Here's A again on the show to bring you great experience of cuisine.
B: Continuing the ongoing Les Aromes Festival 2017 which is taking place at the Sofitel Legend Metropole Hanoi, Peruvian chef Daniel Chavez will bring us another Peruvian unique beef anticucho.
A: "Anticucho"? What's that?
B: That's skewered meat.
A: Oh, we eat skewered meat very often as street food in Hanoi. That's my favorite.
B: But this time, a recipe prepared by chef Daniel Chavez will give a totally different taste to what is called skewered meat.
A: And I think that the secret that may make beef anticucho so unique lies in the use of spices from Peru, right. Let's find out more with Peruvian chef Daniel Chavez.
Chavez: Basically, beef anticucho is skewered meet that has marination made of dried chilli from Peru, oregano, vinegar and garlic.
A: We'll start with the marination of the beef, which is the most important step.
What kind of beef is best used for anticucho?
Chavez: You can choose any part of beef that you like. I slice the beef very thin, that gives it the texture. In Peru, we eat with the beef heart.
Normally, in my country, we will eat slices of beef heart, but for tourists, they will take it out on skewer. We'll cut it into 3 -4 pieces. We will cut it thin. With the rib eye steak, it's not necessary, you can cut it into cubes. You put it in the marination.
B: It's difficult to find beef heart here, hah? Now, Chavez is going to marinate the beef.
Chavez: Achiote is a base of annatto seeds. This gives color and flavor to things and it's very nice. So we're going to mix it. Normally, what I used to do before is I use to warm it up. So we're going to put a little bit of this. This is the paste of the seeds and we're gonna mix…yes, from a tree…it's called the annatto seed.
A: Wow, it's so surprised to know. The color added to the beef is from a kind of tree.
Chavez: Yes, so now we're gonna mix this here….wanna chop some garlic? So you'll see very quickly this will turn into this color…Natural color. So we're gonna add garlic, a little bit of salt, maybe a little bit of cumin. We're gonna add these chilis called panca chili. This chili that has been boiled and blended into a paste. It's similar to a Mexican ancho chili. This is not so spicy but you cannot eat it raw, you need to cook it. We're gonna add some oregano.
And then we add cumin, at this stage, it is like Indian cuisine. We put red wine vinegar. We have garlic, olive oil, pepper.
B: It's time for grilling. You can grill the meat on the coal but today, Daniel is doing in a pan.
A: Skewers are popular in Hanoi but we often serve it hot with sweet chilli. I see here you have some kind of beans and sauce. Tell us more about these things.
Chavez: We make a special sauce today for you to try, huakatay sauce.
Huakatay is a herb that is similar to black mint. The sauce basically has onion, garlic, a little bit green chilli, crackers and peanuts, we use it as thickeners, which is great because we try to avoid cream or heavy which is too heavy.
B: It's not simple only skewers, it's the combination of different spices that make beef anticucho so unique.
A: I totally agree with you. What about the bean? Does it take long to prepare?
Chavez: And the bean. We soak it overnight. Then we boil it slowly for 5 hours. We cook some onion and garlic, with chilli and cumin, we add that to the boiled beans.
B: Everything is ready now. Have hot beef skewers with boiled beans and huakatay sauce. I will never forget this taste, a taste from Peru. Thanks Daniel Chavez for your nice recipe and preparation for beef anticucho today.
Nguồn: vovworld.vn