Vietnam aims to earn 8.5 billion USD from exports of wood and timber products in 2018 (Photo: Infonet)
2017 marked a successful year for Vietnam's agro-forestry and seafood sector with growth rate of more than 2.9%, surpassing the government's target of 2.8%. Vietnam's timber export to key markets increased sharply reaching 8 billion USD.
Among agro-forestry products, wood and timber ranked first in export turnover, making up 27% of the sector's total revenue.
Strong growth of wood exports was seen in key markets such as the US, accounting for 43% of total turnover, followed by China, Japan, and South Korea.
In recent years, Vietnam's wood exports to the EU reached 650 to 700 million USD, accounting for about 10% of the national export value.
Once the Vietnam - EU Free Trade Agreement takes effect, it will create a breakthrough for exports to this market. In major wood markets in the world such as the US, the EU, and Japan, Vietnam's timber furniture is just behind those of China in export value.
Vu Hai Bang, Chairman of the Board of Directors of Woodland Company, said: "We have focused on home furniture items which require higher quality but bring about bigger market share and more profit. I think the more demanding the items are, the greater results they will bring."
The achievements are mainly attributed to the sector's effective management of materials. In addition to increasing competitiveness through improved management, labor productivity, and renovation of processing technology, the agricultural sector has proactively built raw material areas and boosted intensive afforestation on 4.1-million-hectare of land to ensure timber supply for the processing industry.
The sector's associations and businesses have also pledged to refuse illegal timber by establishing a system of accountability for wood origin.
Nguyen Chien Thang, CEO of Scansia Pacific Company in Dong Nai province, said: "Most of the timber we are using now are acacia which are widely planted in Vietnam. But they are scattered and few companies have large areas of acacia trees. We plan to develop a 10,000-hectare material zone to meet the company's needs."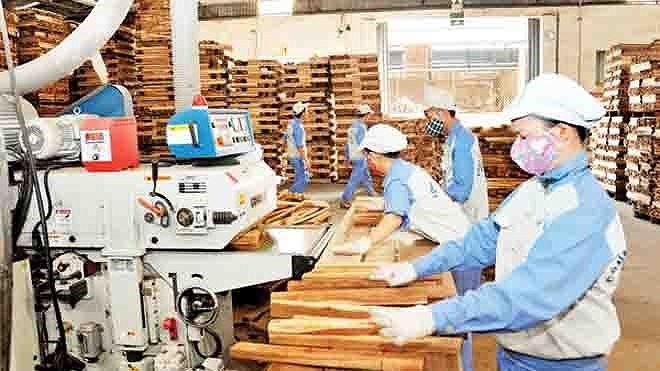 2018 promises positive opportunities from the EU, Japan, South Korea, and the US for Vietnam's wood sector. (Photo: Tienphong)
Huynh Van Hanh, Vice President of the Handicraft and Wood Industry Association of Ho Chi Minh City (HAWA), said the sector is trying to make its wood processing and exports economically efficient.
"Businesses need to diversify their products and expand markets, especially to the countries which Vietnam has signed free trade agreements with. We must diversify wood supply resources, invest more in technology to increase productivity, stabilize quality, and reduce product prices," said Hanh.
Vietnam aims to earn 9 billion USD from exports of forestry products this year of which wood and timber products make up more than 8.5 billion USD. It means the goal of 10 billion USD in revenue by 2020 is a realistic goal.
Nguồn: vovworld.vn